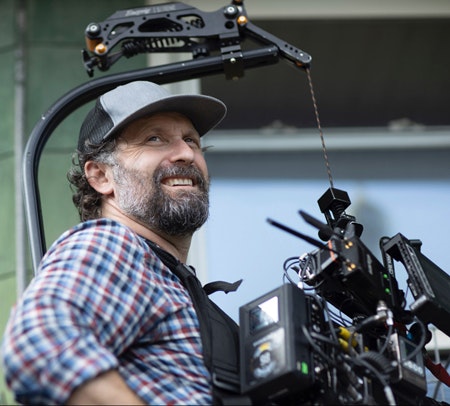 Sam Chase is a New York based cinematographer with a wide ranging of skill set and experience in multiple disciplines and genres. Credits include the post 9-11 drama "Torn" (Grand Prize RIIFF), "Price Check" (Sundance Premier), $30M Chinese action comedy "Hollywood Adventures" produced by Justin Lin, Vietnamese/US period gothic thriller "The Housemaid" (LAFF/released by IFC), several TV Pilots, and recently "The Letter Room" starring Oskar Issac and Alia Shawkat. He has shot 2nd units for the likes of "Men in Black International" and USA's "The Sinner". He has had projects at Sundance, Cannes, SXSW, Art Basel, Sitges, LAFF and many more.
Sam has shot numerous documentaries and conflict situations including the Emmy nominated "A Death in St Augustine" for PBS-Frontline, feature length "Cocaine: History Between the Lines" for History and recently "The Endorsement" for NYT's The Weekly, where each of the 2020 democratic candidates was interviewed by the NYT editorial board.
Sam is a prolific commercial cinematographer and has lensed hundreds of spots including multiple Clio, Addy and AD&D Award-winners. He has also collaborated on several fine art video installations including works with artist Stan Douglas and choreographer Benjamin Millepied.
He has lived in France, China, across the US, and has worked just about everywhere in between. Sam lives in Brooklyn, NY with his partner and son.

RESUME
2018 Interview in Filmmaker Magazine http://filmmakermagazine.com/1...

ICG Article about "Hollywood Adventures" icg.pdf
REVIEWS for THE HOUSEMAID (2018)

"Working very effectively in both its steamy romance and subtle horror elements (there's little overt gore), the film benefits immeasurably from Sam Chase's evocative cinematography" - The Hollywood Reporter
"Lush, verdant exteriors — vibrantly photographed by Sam Chase — define a plantation where hundreds of Vietnamese workers were brutalized." - The New York Times
"Cinematographer Sam Chase is the star here…he shows an incredible talent that needs to be seen." - Starburst Magazine